A new way of working together
A collaborative platform for IP professionals to work with clients, foreign associates and providers. With instant access to reliable and trusted services provided by iPify.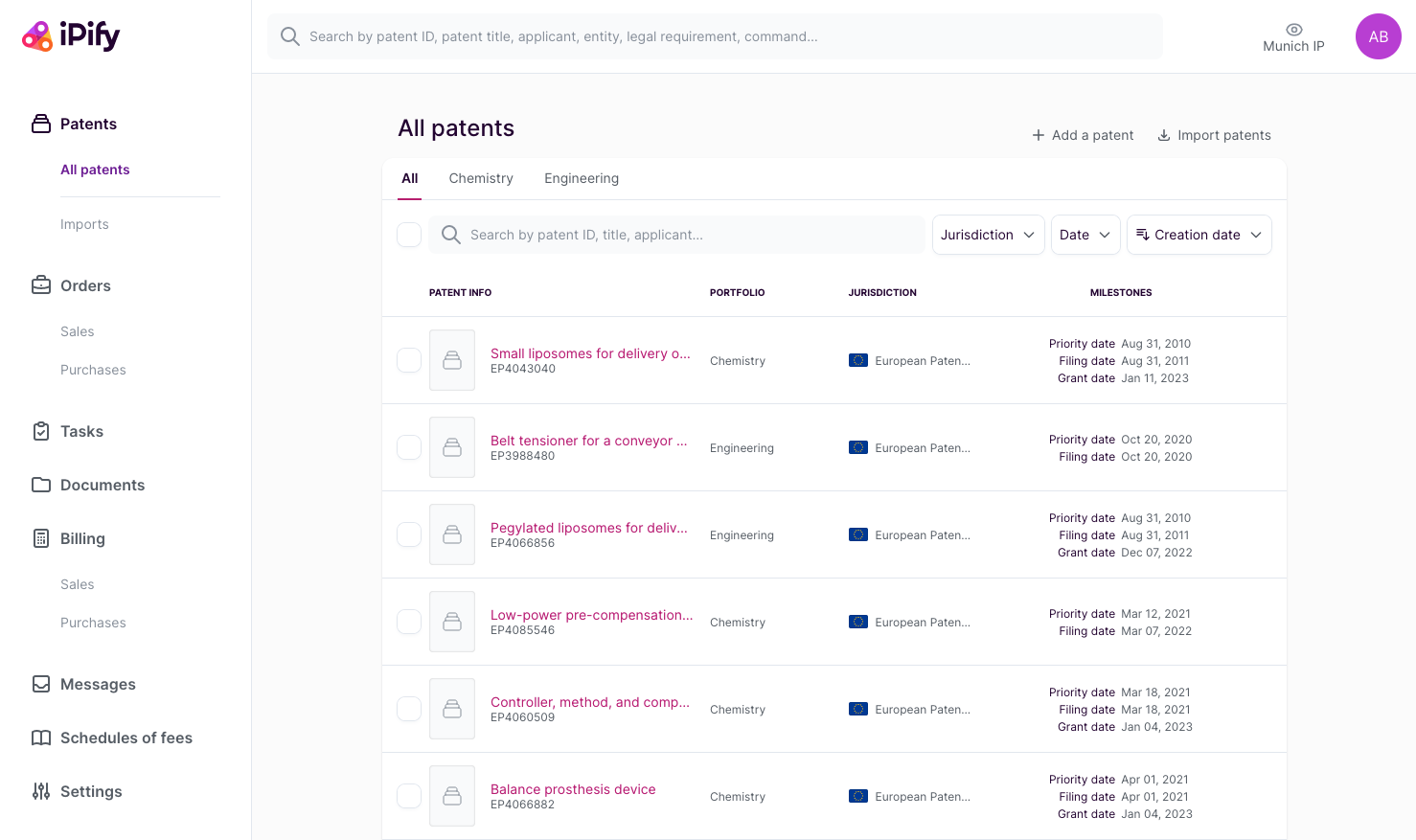 Why iPify ?
Expertise. Technology. Collaboration.
Powered by best-in-class industry

experts

Using cutting-edge

technology

to make life simpler

Everyone, everything,

all in one place
About us
Keeping IP professionals at the heart of the industry
We combine experience, know-how and easy-to-use technology to support and empower IP professionals - enabling them to focus on their clients. Our team has a combined experience of over 100 years in the IP industry.

Our founders
Our platform
One platform. A shared vision.
Your teams

Map your organization, increase efficiency and keep track of all actions on our log chain.

Your clients

Customize your branded, transactional white-label portal to offer your customers the option to sign off on quotes.

Your foreign associates

Enhance your business relationships with online schedules of fees, shared workflows and 360° monitoring.

Your providers

Connect with your IPMS, accounting systems and providers' portals via our APIs and callbacks.
Platform features
Power up your practice with new technology
Supercharge your agent relationships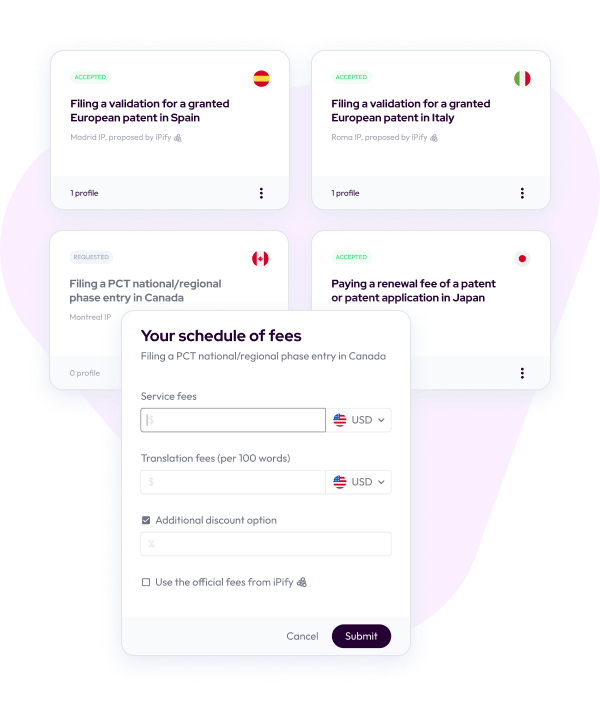 Onboard and manage your agent network directly in your working and invoicing environment. Accelerate this process by using our AI engine to analyze your past filings.
Store detailed schedules of fees and commercial agreements or SLAs.

Consolidate operational feedback from your teams in a live dashboard.

Evaluate business relationships with solid financial and quality KPIs.

Work more efficiently with your partners

Share a common workflow generated by our legal rules engine. Get automated provisions appropriate deadlines for your documents and tasks.

Share cases, assignments, and deadlines.

Track who is doing what, monitor deadlines, and get task reminders.

Access automated workload projections for both your teams and partners.

Stop wasting time and money

Keep your finances under control with world-class purchase management and e-billing tools.

Get your pricing automatically updated in case of unexpected events (such as recordals, operational delays, and missing documents).

Seamlessly process digital invoices, manage your currency exposure and comply with accounting regulations.

Execute and reconcile your payments and net invoices.

Customize your own white-label portal

Onboard both your internal and external customers and offer them a unique experience to confirm their instructions.

Enable your customers to access a white-label platform branded in your name.

Invite your customers to benefit from live quotes, order confirmations and reminders, shared documents, and more.

Our services

Services you can trust

No compromise on quality, at the best price.

Unitary Patent
& Validation services

Quality services backed by top-tier agents and internal expertise, computer-assisted translation quality assurance, a proprietary word counting method, and more...

Renewal services

Automated and transparent online pricing, competitive fees, embedded data verification, native white-label portal functionality, and more.

FAQ

iPify has been created and designed for all IP professionals, working in law firms or in the industry. Patent attorneys and IP operational teams will benefit from a unique experience.

iPify offers many customization possibilities. You can in many ways mirror your own organization, network and commercial policies.

iPify is made for you to work with any of your partners. You also have the possibility to use iPify and the agents we select for you to deliver services such as European patent validations and renewals.

iPify is primarily designed to work together with your partners and is open to service providers. iPify also offers its own European patent validations and renewals services.

iPify has been designed to offer you a better experience on some specific parts of the IP value chain than an IPMS could offer. But it does not have all the functionalities of your IPMS. iPify replaces certain functions of your IPMS and should be operated in parallel to it.

iPify has a library of APIs that would ease integration with your IPMS. We believe that not all the information on iPify should be replicated in your IPMS, just the most essential parts. It is precisely the purpose of the APIs that we have designed.

Like for the IPMS, iPify has a library of APIs to connect with your accounting system. Information such as purchase orders, sales orders and invoices can easily be fed into your accounting system.

iPify is an open ecosystem on which you can specify the services that you offer and their standard prices. Other users of iPify then have the possibility to contact you with regards to a certain service and reach an agreement.

We are hiring!

Do you want to join a team of experienced and passionate individuals?